Home » Illegal alien amnesty rally scheduled in Washington
March 19th, 2010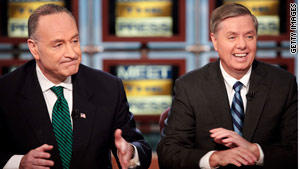 Thousands of people are expected to pour into Washington for a Sunday rally demanding support for illegal aliens, launching the first public battle over the issue since the announcement of a new bipartisan plan endorsed by President Obama.
Federation for American Immigration Reform — which staunchly opposes amnesty — called on Americans to contact their representatives and demand tougher borders and an end to illegal immigration. FAIR says it seeks "effective, sensible immigration policies that work for America's best interests."
"The American people deserve more than empty rhetoric and impractical calls for mass deportation," the two senators behind the new immigration plan wrote Friday in the Washington Post. Sen. Charles Schumer, D-New York, and Sen. Lindsey Graham, R-South Carolina, lay out broad ideas for fixing a "badly broken" system.
"Our plan has four pillars: requiring biometric Social Security cards to ensure that illegal workers cannot get jobs; fulfilling and strengthening our commitments on border security and interior enforcement; creating a process for admitting temporary workers; and implementing a tough but fair path to legalization" for the 11 million immigrants in the United States illegally, the two lawmakers wrote. The plan will "require an effective employment verification system that holds employers accountable for hiring illegal workers," the senators write, including a "tamper-proof ID system." The plan also would create "a zero-tolerance policy for gang members, smugglers, terrorists and those who commit other felonies after coming here illegally."
Rep. Luis Gutierrez, D-Illinois, agreed to support the House health care bill after meeting with Obama and discussing immigration reform. "After extensive discussions with the president, I believe we have a health care bill I can vote 'yes' for, and I believe we have a commitment to move forward on a comprehensive immigration reform package as soon as possible," Gutierrez said in a statement Thursday.
Gutierrez added that he believes Obama "gets that we cannot ensure the health of our nation if we continue to ignore the 12 million undocumented immigrants living in the shadows. And he agrees that if we are going to have health care that works, if we are going to have a system that cuts costs and streamlines the delivery and keeps our children healthy, then we fundamentally need to enact comprehensive immigration reform." Story. Also:
Will Sunday's Amnesty March Backfire?
Chad MacDonald Discusses S.T.O.P. Amnesty in 4 Days
After Health Care, Immigration?